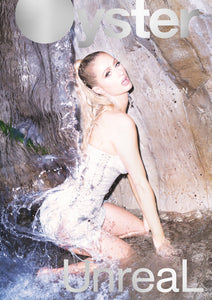 Fall/Winter 2019
Oyster Issue #117: The Unreal Issue
✨  Our final cover star reveal for The Unreal Issue, sees master of our reality (TV) Paris Hilton wearing Nikita Karizma under her waterfall at home in LA. Inside she is interviewed, for the first time ever, by her sister Nicky.  ✨
By the time she was a teen, Paris had quickly become a permanent fixture at early-aughts Hollywood hot spots like the Chateau Marmont and Les Deux, a regular on industry red carpets and a familiar face in the front row at every Fashion Week.
Paris at the mall, Paris leaving Starbucks, Paris in London — alongside her sister, Nicky, the heiress dominated the pre-RSS fed world of media, almost single handedly keeping paparazzi (not to mention the semi-eponymously named goss site, Perez Hilton) in business.
She might not have been the first to do it, but Paris certainly was the most famous for being famous, unintentionally — or intentionally, depending on who you ask — setting the stage for what's become standard social media practice. Remember: Kim Kardashian was her assistant.
ORDER NOW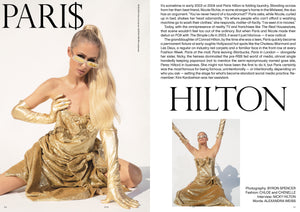 Fall/Winter 2019
Oyster Issue #117: The Unreal Issue
✨ On our second cover reveal for The Unreal Issue, actress/model Lera Abova wears Saint Laurent ✨
Lera doesn't hesitate to spit emotions. With a rep for being quite real when it comes to disclosing encounters with tribulation, she's a real advocate for mental strength. As we talk over coffee in her current stomping grounds of Berlin, she gets into the grit of her journey from unknown Russia, through the thicks of shit relationships and shaved heads, and out the other end — drenched in charisma and surrounded by the admiration that dreams are made of...
ORDER NOW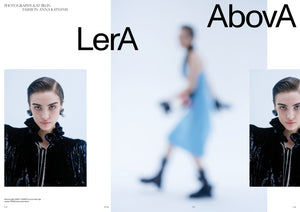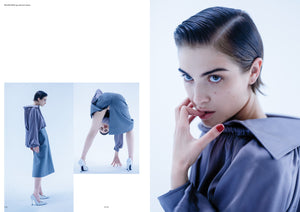 Fall/Winter 2019
Oyster Issue #117: The Unreal Issue
✨  For our first cover reveal for The Unreal Issue, Australian fashion icon Emma Balfour rules in a Loewe dress, and Romance Was Born tiara and veil  ✨
Because October is all about Halloween, we've gone full fantasy, creating a modern fairy tale special to celebrate Disney's new film, Maleficent: Mistress Of Evil, doubling as essential inspo on slaying the season.
Across three mythic editorials, the story's lead women are introduced by way of luxe fashion, cult beauty and major Australian casting: Emma Balfour embodies Ulstead's conniving Queen Ingrith in 'Bow Down' — and it doesn't hurt that she reigns just as hard as Michelle Pfeiffer; actual angel Phoebe Combes is an absolute princess as Aurora in 'Pure Heart'; and IRL Wiccan Tallulah Morton is the dark angel of our dreams channelling Maleficent herself in 'Mistress of Evil'.
Tag yourself, we're Maleficent's impenetrable eyeliner.
ORDER NOW